A perfectly adjusted line laser should depict a homogeneous line (Fig. 1). This poses various challenges for laser manufacturers, such as the straightness of the line (Fig. 2), a homogeneous intensity distribution (Fig. 3) and the orientation of the laser line in relation to the housing (Fig. 4).
–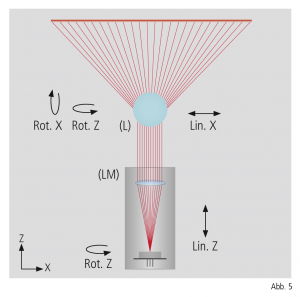 To achieve the goal of a homogeneous line, anamorphic refractive optics (L: Powell or cylindrical lens) must be precisely aligned to a collimated beam from a laser module (LM: diode and collimator) (Fig. 5). With the help of our freely combinable components, individual multi-axis systems can be set up. For this purpose, OWIS® developed a motorized 5-axis structure together with Z-LASERGmbH (Fig. 6). To achieve the correct installation position, the laser module can be aligned in the beam direction to the optics using the height adjustment table HVM 60 (1) below. It can also rotate around the Z axis using our DMT 65 (2) rotary measuring table. The optics are positioned in the X direction using the LTM 60 (3) precision linear stage in order to align them above the laser module. The two high-precision goniometers MOGO 65-40-65 (4 + 5) rotate the optics around the X and Z axes. With the help of a camera, the complete alignment can be automated.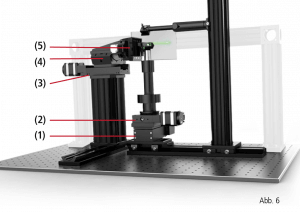 Quality products "Made in Germany" at attractive prices and delivery times.
–