Compact and fast electrically operated linear drive
13.12.2019 | The drive is particularly suitable for use in automation and conveyor technology. It can replace pneumatic cylinders.
Special features:
Compact design: With a housing length of only 67 mm, a full 40 mm stroke (49 x 90 x 82 mm)
Powerful and highly dynamic: push/pull forces up to 300 N, speed up to 445 mm/s
Easy parameterization:User friendly software and Connect-Box
Integrated control:Configuration and teach-in of the system without expert knowledge
Maintenance-free
M12 connector with one digital input for the command signal and two digital outputs for feedback signals and position status.
Variant key: The KuLi short-stroke linear actuator will be available in various variants: The mechanical connection and the connector position can be selected to suit the application. Lifting speed, lifting force and stroke length are individually adjustable.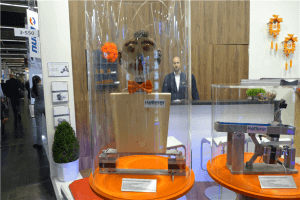 stroke length/max. travel 40 mm
Spindle pitch 6 mm
max. thrust / tensile force 300 N
max. speed (free of load) 445 mm/s
supply voltage 24 VDC
max. current consumption 10 A
repetition accuracy +/- 0.2 mm
–